What could be better than relaxing in a hammock, looking up at the beautiful stars in the sky, enjoying the great outdoors and camping in a site you have setup for yourself; so when you are ready to explore the nature and walk into the woods for couple of nights with your hammock which is the only piece of equipment that enhances the beauty of camping and allow you to enjoy to the fullest whether you're a newcomer to the camping world or a hardcore and an adventurous nature enthusiast.
A good morning starts with a sound sleep and during camping, it's important for a hammock to have proper insulation for a good sleep and a proper camping experience, at the same time when the colder months moves around and the sun goes down everything you need is to have a proper in insulating hammock to experience camping to its fullest but he major drawback in hammock's design is that they don't provide much insulation for your backside that's where the hammock under quilt comes with all upgraded designs to make your stay worth,warm,cozy and worry free.
Why to buy a hammock underquilt?
Woke up cold and tired? Experience was too tiring? Restless nights? suffered from cold butt syndrome? so these are some cold freezing and tiring happenings that you have to deal with so an underquilt is the comfortable and best way to insulate your hammock. It could make the difference between a comfortable and happy holiday and a cold and miserable one. Hammock underquilts were designed to take the edge off these problems by creating a layer of insulation underneath your hammock. With a hammock underquilt, you'll dependably use your hammock well into the autumn and, in some cases, winter.
What do we need to consider when buying a quilt?
When it comes to choosing your underquilt there are likely to be several factors at play. What are the conditions you are expecting to use it in? Will you be primarily car camping or backpacking?  How cold do you expect it to be?  Will it be wet? What is your budget? These are few questions you need consider before you hand over your hard-earned cash.
Synthetic versus down insulation
When you are thinking to buy hammock underquilts for better insulation, you need to check on the synthetic and down insulation properties. A better research on this can make your needs clear and efficient. The type of insulation directly affects the warmth, weight, water resistance, compressibility and price of insulators. Both down and synthetic have pros and cons when it comes to performance, therefore selecting the correct variety of insulation for your use will flip a chilly, uncomfortable outing.
A common misbelieve is that down insulation is made from the feathers of a bird. Down is actually the plumage that's found underneath the exterior feathers on waterfowl such as ducks and geese and consists of soft, fluffy, wispy filaments. Some merchandises use a mix of down and feathers, however by definition, down is completely different than feathers.
Down insulates by catching air and is valued for being light, simple to pack, enduring and breathable. It's the protects in chilly, dry conditions, or whenever the top priorities are reducing weight and space. This is the high quality product as Down insulation has commonly been sourced from geese. Nonetheless, many significant manufacturers have recently made the transition to duck down throughout few or all their product offerings due to the increasing Fill power is the term used to measure down's ability to loft, and so lure heat. Premium down will reach 900 fill-power, and doubtless even higher. Duck down are able to fill-power ratings no above than 750 or 800.
Pros:
Higher warmth-to-weight proportion than manufactured protection
Highly compressible
Very durable; with good and proper care, a down underquilt can last for decades
Cons:
Loses insulating power once it gets wet and takes a long duration to dry
Special care while cleaning
Not hypoallergenic (rarely an issue)
More expensive than synthetics
Synthetic insulation
Synthetic insulation is known for its robust and overall strong performance and friendly price tag. Typically manufactured from polyester, synthetic fill is quick-drying and insulates notwithstanding wet (something down struggles to do).
Pros:
Very water-resistant and continues to insulate even once wet
Hypoallergenic
Less expensive than down
Cons:
Heavier and bulkier than down insulation
Offers less heat for its weight than down
Less sturdy and durable than down; insulating power gets reduced every time the bag is stuffed into a stuff sack
However, Synthetic products usually can't provide the same degree of heat insulation as down products so, down underquilts are better for campers who worth comfort over affordability and don't have issues with these underquilts propensity to absorb moisture. On the other hand, campers looking for an affordable and long-lasting product that is easier to clean and resistant to rain should start their hunt in the synthetic market.
Materials: Nylon or Polyester
Nylon:
Rip stop nylon is the most common material for a hammock, but it is not the only option, especially when you are making your own hammock. Rip stop nylon is the top choice because it is a durable fabric that does not tear easily. It also stretches and does not absorb odors. Nylon does absorb water so a wet hammock may get heavier to carry and may take some time to dry. To minimize water absorption, some nylon - called silnylon - is treated with silicone to be extra water-resistant. Silnylon also is stronger than regular nylon.
Polyester:
Polyester is almost the polar opposite of nylon. It isn't quite as strong as nylon and doesn't stretch like nylon, but it does not absorb water. You can use it on a rainy day, and the fabric won't gain any water weight. Similar to nylon, polyester can be coated with silicone on both sides to form Silpoly. Silpoly is waterproof and windproof, both of which are useful for hammocks.
Temperature
Most underquilts have a temperature rating that is often listed as a comfort rating or a limit rating. The comfort rating is the lowest temperature that you could stay warm while sleeping. The limit rating is the lowest temperature you could not get cold when curled up in a ball to sleep. Each underquilt has a specific temperature rating determined by the manufacturers. When choosing an underquilt always pick a product that will perform at about 10℉ cooler than the average temps at your favorite camping destinations.
Weight
Weight is obviously one of the biggest considerations when backpacking so aim for a quilt that is about 25 ounces or less if you are looking to pack light.
Underquilts are available for backpacking, car camping and even at home use. Keep the weight comparable to a similar temperature-rated sleeping bag; go for low weight and easy maintenance.
How to set-up a Hammock Underquilt
Materials needed to make an underquilt:
To make your own underquilt, you would need the subsequent materials:
Two double packable down throws, like as the double Diamond 60" x 70" 700 fill down throws.
5-inch wide grosgrain ribbon
1/8-inch shock cord
Seam ripper
Sewing kit or machine
Sharp scissors
Pins or binder clips
Measuring tape
No need to follow complicated DIYs; you can set it up in 3 steps:
STEP-1: Lay down the second throw and seam rips all the horizontal 60-inch seams. Shake the down and squeeze it so it goes to one side of the quilt.
STEP-2: Sew a new seam along the length of the quilt, about 25 inches. Cut and discard the extra fabric. Fluff the quilt so it gains a loft of about 2 inches.
STEP-3: Sew a channel along each of the four sides of a quilt using 1.5-inch-wide grosgrain ribbon. Then attach a 1/8-inch shock wire to every corner of the quilt. The shock cord is used to suspend and change the underquilt on your hammock.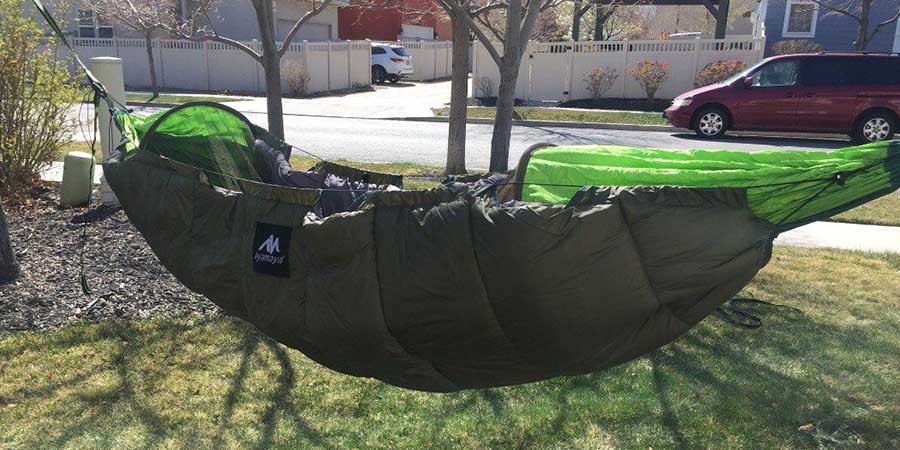 How to fix underquilt to hammock?
Follow some simple steps for attaching an underquilt to your hammock:
This will be easier with a partner. Grab a friend, grab your hammock and let's get started! Get your hammock so you can start fixing the underquilt. It ought to be suspended underneath your hammock with negligible pressure on the quilt. You must also make sure there are no, or minimal, air gaps between the hammock and the quilt as this will work against the purpose of insulation.
Place your hand between the hammock and the quilt to check for air gaps. Eliminate any air gaps by adjusting the suspension of your quilt. Make a little adjustment on each of your suspension lines around 1/2inches until there are no air holes and the quilt has a full space.
If a quilt is suspended with too much tension, it will lose its loft (flatten) and its insulating qualities. So while adjusting the suspension to reduce air gaps, feel the outside of the quilt for loft, and make sure it stays full.
So, to explore more and worry less its worth investing in hammock underquilts, do a quick research and pack your bags with the most convenient, comfy and travel friendly underquilts and experience the nature's beauty to its fullest.
0 comments