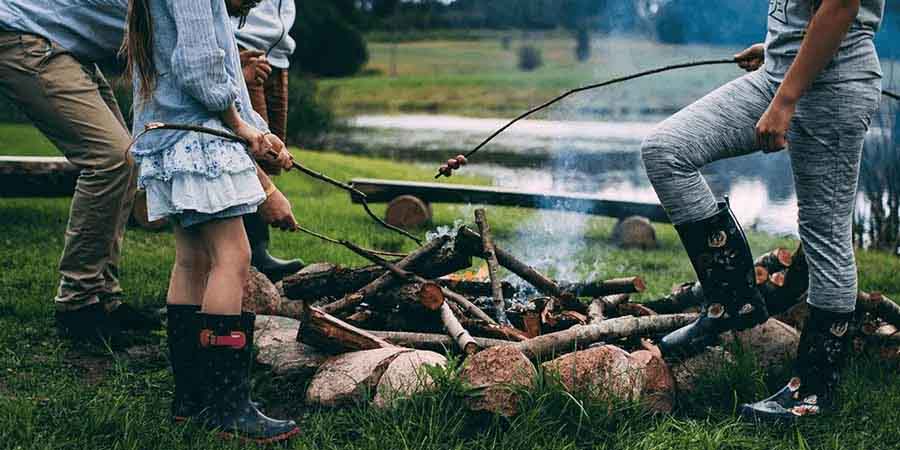 The Summer Holiday is coming soon. Do you want to spend a special holiday with your family. If we plan to go camping with the family,How to choose a family Camping tent?
1.4-6 Person Camping Tent Is Good Choice.  
If we want to camping with your family We'd better choose a family camping tents with bigger sizer.4-6 person tents is better.Extra room make you feel more comfortable in the warm weather.
2.Camping Tent With A Area For Your Pets? 
We don't want to leave our puppy or kitty alone at home during long summer holiday.We need a camping tent with the space for the pets,We'd like to choose the tent with a little area in front of the tent.You can keep your dog there,Also your boots and some other gear there so it doesn't get wet if it starts rainy and keep your sleeping area clean and smell good.Without a porch,you have to sleep with your dog on the same camping pad.
3.Easy Set-up And Fast Pitch Tents.
How easy to pitch the tent is even more important in hot weather.There are two main reasons for this:
The longer it takes you to pitch the tent, the longer you are out in direct sunlight.
It is particularly important to avoid spending too long in direct sunlight at midday and early afternoon when temperatures soar.
The longer it takes to pitch the tent, the hotter and sweatier you will get. It is better to choose a tent that is quick to erect so that you can quickly get out of the shade.
The most recommended easy set-up tent is the Pop Up Tent  This kind of tent can be set up within 5 seconds by one person, even the kids can make it. Also the Instant Auto Tent is a good choice.
4.Double-Walled Camping Tents.
Why we need a double walled tents ? There is a big temperature difference between night and day in summer holiday especially in the west of USA.If we use the single wall tents, the wall of the tents  will be moist in the morning,It will make your sleeping bag to get wet.Destroy your good mood .The double wall camping tent can solve this problem.Condensation usually forms on the underside of the outer tent,In moderate amounts, the droplets cling to the underside and no harm is done since your inner tent separates you from the dampness.
5.Top Quality Zipper Is Very Important For A Tent.
As a two kids mom, I know what is the kid love to do,They will keep going in and out of the tents,if  the zipper is poor quality ,it will be broke very soon and Put you in an awkward position.Moms have to choose the tents with the top quality zipper such as SBS zipper.
6.Good Ventilate Camping Tent For Hot Weather .
Weather resistance isn't simply about withstanding wind or rain—the hot summer months bring their fair share of challenges. A tent that is hot and muggy at night can be just as miserable as a rain soaked tent—and either way, don't expect much sleep. For a tent to perform well in these conditions it needs to ventilate well.
Good ventilation tents is made of healthy swaths of meth. And the outertent 's material should be breathable.
Windows
-- Choose a tent with multiple large windows with covers. These will  give you the ventilation you need in the day with the option to close them at night to retain heat and maintain some privacy.
Doors
--A large door that you can leave open in the day is another advantage.
Vents--Another way of ventilating a tent is if there is extra ventilation. These  often come in the form of tubes, panels, or a roof vent.
The main thing you need is a tent with two doors, either on the sides or front to back.That way, you can try to aim it into the prevailing breezes when you set the tent up, and get some flow-through ventilation.
7.Sun Protection.
Many tents have UV protection in the materials.These offer some protection from harmful UV rays when you are in your tent.
Some tents have an extended area over the door that will give you an area to sit outside the tent in the shade.
Although the sunshine can make a camping trip more enjoyable, it is also potentially harmful. Both sunburn and heat stroke are health problems you need to avoid to stay healthy and enjoy your camping trip.
8.Water Proof.
Water proof ratings are measured in millimetres (mm) and usually fall anywhere from 800mm to 10,000 mm. These figures indicate the amount of water pressure a fabric can withstand. That means a tent with a 2,000mm rating will endure a 2,000mm or two metre column of water bearing down on it before it starts to leak.
Protective coatings are applied to tent fabrics which close the gaps between threads, preventing water passing through the fabric and allowing water to bead and run off and maintain the quality of the material. Typically these coatings are polyurethane (PU) for polyester fabrics and silicone (Sil) for nylon fabrics
Typically tents have walls rated 1000 mm and floors of 1,500 mm,if you take more attention on the waterproofness,3000mm should be better .
9.Camping Tent's Color.
This is a very personal choice,but one little tip.The camping tent should be in the color will not show the dirty.We don't want to wash the tent frequently.Washing is not good for the tents' waterproofness.
10.Fanal Verdict.
If you predominantly go camping in the summer months, then it is important that you choose a tent with the right features for warm weather. There are many excellent tents from which you can choose. 
Key Features:
Waterproof Material : PU3000MM.
Ventilate : One Big door and Five Windows.
Double Wall.
Top quality SBS zipper.
Pop Up tent : Easy set-up and Pitch in .
Porch : Boots and bags can put there .
Large Size : 7*102.4*51.2 inch (L x W x H).
Key Features:
Instant automatic set up: This tent can be set up within 3 Second .

Rainfly design: Excellent water proof tent because of the rainfly. and good at Ventilation.

Windproof: Inner and out layer superpose together as a windproof camping tent for windy or rainy days. 

Use out layer alone as a rainfly :

Use the rainfly alone as the pavilion, awning, rain shed or fishing shed which can be used as a wayside pavilion with the groundsheet 

Sun Protection :50+ UV protection.
 No.3  Octagon98 With Full Fly
Key Features:
Large Room .
The curtain style rain fly flaps for ventilation and light. 
Easy to assemble.
Some review say the zipper is hard to use .
No.4 Big Agnes Rabbit Ears 4 Tent
Light weight.
Reflective guylines and reflective webbing.
6 interior mesh pockets and 10 lightweight.
One large door featuring a window with two closure options.
No.5 Wnnideo Instant Family Tent
Unique elasticized fabric.
Easy setup.
Waterproof and UV protected.
Spacious interior.
Breathable and well ventilated.
The overall best tent for hot weather is  AYAMAYA 4-6 Person Pop Up Camping Tent. This tent is breathable, water-resistant, and easy to set up. It also has good storage options and is made from good quality materials.
If you have a limited budget, then a good value choice is Ayamaya 4 Person Instant Automatic Set up Tent   Despite its low cost, this compact tent is a good quality product. water-resistant, and offers the excellent ventilation and UV protection that is needed in warmer weather.
PS: When you plan a family camping  tent is the most important things,But at the same time you also need other gears,beow is the check list of the gears of a family camping.
Tent 

Hammock 

Rainfly 

Ultralight Gas Stove
0 comments