Hammocks are your children's best companions as they love to play around in them and also carry them everywhere in their adventure trips and camps. Their outings are practically incomplete without them, and you have no option but to oblige to their demands. But kids being kids can get a little reckless and overenthusiastic while playing and ignoring their well-being. It becomes your responsibility  to step in for the safety of your child and make sure they are not left unsupervised and also provided with the best hammock according to their needs.
Let your kids enjoy their hammock adventures without any risk of hurting themselves. Choose a hammock wisely to prevent any mishaps and injuries.
Where should you place a hammock in your house?
An essential step in preventing any injuries is choosing the right spot for the placement of hammock. If you plan to hang it from trees, choose a sturdy tree that can support the weight of the child and secure it tightly with straps. Whether you place it inside or outside, choose a comfortable corner that is away from any hard objects and gives your child ample space to play around.
When on trips, make sure that they are away from any lakes or marshy grounds that might lead to trouble. Double-check the hammock for any holes, tears, or weakness and only then place it accordingly. Always remain on a lookout when they are playing or jumping around just in case they get a little too excited and possibly out of control and end up hurting themselves.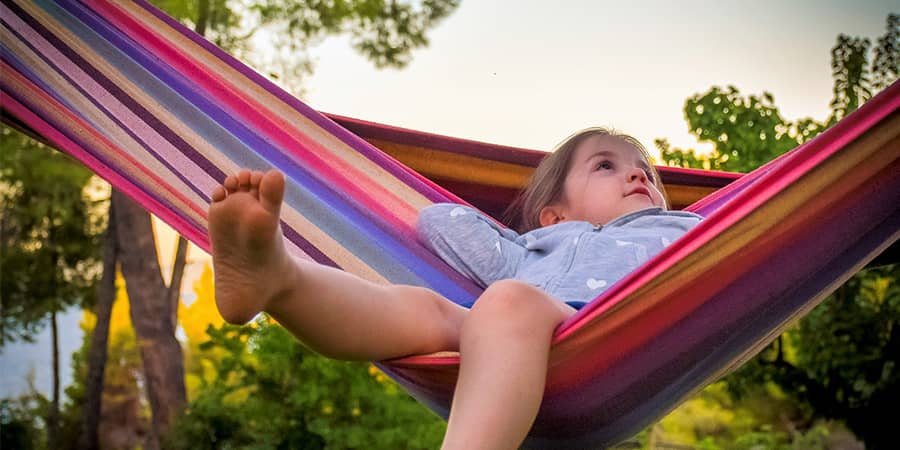 Things to remember when choosing a hammock for your child
Always ensure you buy a good quality hammock for the child according to his size. Choosing a wrong hammock will cost you a lot more than just money. Your kid cannot make that decision for himself, so it becomes the duty of parents to ensure that their child has the best in terms of quality and comfort.
Choose the right size and shape. Be mindful of the space you have available in your house for placing a  hammock either inside or out in the yard. For a child, it is recommended to get a small hammock as there is always a risk of falling out of huge hammocks as children are highly energetic; they might roll just out of it.
Choose comfort over design. Your priority should be the comfort and safety of your child rather than an excellent looking hammock. Your child should be able to peacefully sleep or lie around in them without then the fear of falling out of them.
Get a robust and sturdy hammock.  You know it very well that your kid isn't going to sit in the hammock. Kids are restless, and that means they are most likely to jump around in them. Ensure that the hammock you purchase has a functional weight capacity that will help last your hammock longer.
Choose a light design if you want one for outings and trips. When going out on adventures, you do not want to carry a heavy hammock around. Choosing a lightweight one will be easy to move around and set up anywhere according to your choice.
Get a hammock with a flexible suspension system. Since all hammocks require you to install them, make sure they come with a variety of suspension systems such as webbing straps, synthetic tree slings, or nylon ropes that will give your more attachment points, and you can adjust them according to your needs.
Choose a hammock that comes with an extra feature of insulation. For times when it's warm, you want a breathable hammock for your child. Well, there are hammocks available for just the purpose that will keep your child comfortable even during warm weather. Similarly, you can use sleeping pads and under quilts when you need to provide extra warmth to your child.
Additionally, please don't go for spreader bar hammocks as they are taut, and your child is more likely to flip over them. Also, choose waterproof hammocks and also provide relief against bugs being permethrin-treated; those are ideal for camp outings.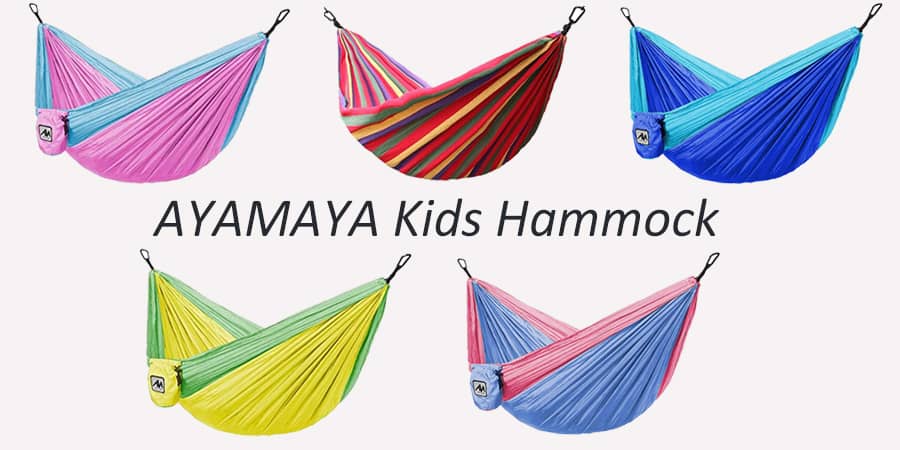 Cautions and safety tips for hammock use
Always keep in mind the height at which you are suspending the hammock since a child is prone to falling from it. It is advisable not to suspend it higher than 2 feet above the ground. Double-check the hammock after suspension for any issues and never let a child play around without adult supervision.
It is also wise to counsel children on safe usage of a hammock. If your child is old enough, then teach them how to get in and out of the hammock safely without jumping in them as it might weaken them. Also, make sure that they don't stand and play in it as there are high chances of falling from it.
Summing up
By now, you must have understood the points to focus on when purchasing the right hammock for your child. Show your love toward them by providing a safe and comfortable space to relax in or nap without worrying about their safety.
We at AYAMAYA offer you with all the premium and durable hammocks that are a perfect size for your kid aged between 4-11 years. You can set them up either inside the bunk bed or your backyard, all thanks to their attached rope with the hammock. They come with a durable and breathable anti-scratch nylon material and alum grade carabiners and straps for extra security.
It is a perfect hammock to gift your child this birthday or Christmas or New Year to enhance their camping, hiking, beach, or plain backyard adventures without compromising their safety. These hammocks are easy to install and can be set up anywhere with the easy to hang components available, wherever you would like. Their lightweight and portability allow you to carry them anywhere with ease.