Do you enjoy tent camping? As a hardcore camper, hunter, or mountain climber, you will have a reason to love the experience of tent camping. You, therefore, need a definite guide that will help you choose the best pop-up tents for a memorable camping experience.
Choosing a single pop-up tent out of the several options in the market can be so daunting. It takes a bit of research, an expert opinion to get the right features you will be looking for in a tent.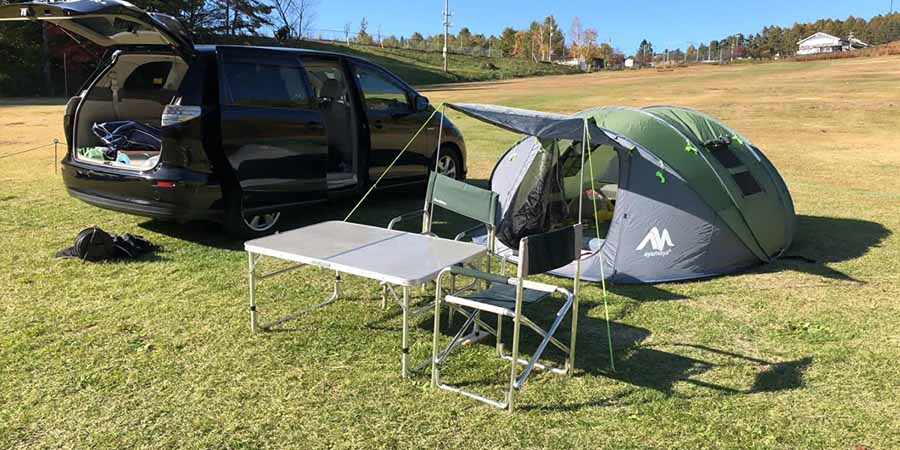 What is a pop-up tent?
Many campers find trouble setting up the tent, and they waste a lot of time trying to fix things. The arrival of the pop-up tents solved such issues, and it is now something of the past. You no longer need to strive to set up a tent because everything is easy. You only pull it out, and it is ready.
Pop-up tents are available in two categories. Some campers will appreciate the pop-ups, while others will stop at nothing but hybrid pop-up tents. The bottom line about both is the fact that they offer the user an easy setup process. They are way easier to set it up than any other traditional tent available.
Despite the benefits of this pop-up tent, you should be worried about the heavy winds!
You can safeguard this by using heavy poles to protect it from the strong winds. Exercise caution while you are camping with pop-up tents during the windy seasons.
Why choose a pop-up tent
Some reasons make the pop-up tent to be a choice for everyone. First, the fact that they are super lightweight makes them better for both experts and beginners. Campers will do better with lightweight material and the pop-up camping tent.
Secondly, setting them up is as easy as counting numbers! You need no prior exposure because it is all about pulling it out, popping it up and opening the twists, and closing them! It is an instant shelter in cases of emergencies.
 Choosing a tent is so daunting for beginners. It will be easier to base your choices o reviews. Ayamaya pop-up tent is among the best-selling pop-up tents available at Amazon, and they are receiving the best customer reviews. There are specific features that a pop-up tent will need to possess to rank among the best.
First, you will be considering the number of people that will stay in a pop-up tent. Weather is also a factor that you must never overlook. Ensure that that the weather will favor the pop-up tent that you will purchase. If you have lots of accessories during your camping adventure, it is worth evaluating the space that you will need. If you need space, then you will need the pop-up tents with sufficient vestibules. Finally, you will need to have a better plan for the future. If you need a single-family pop-up tent and you will be ready to acquire one every time your family members increase.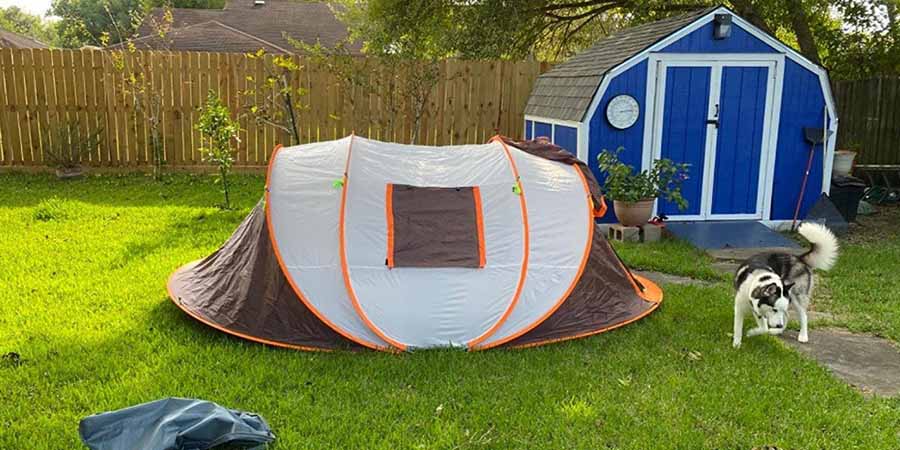 Which is the best pop-up tent?
There are lots of tents out there that you can choose from as a camper. This article will only briefly discuss the three pop-up tents that you can opt. One of the tents is the Ayamaya pop-up tent has a good reputation and the best customer reviews seen from the best platforms like Amazon. Others are Zaltana pop-up tent and Coleman camping tent.
The lead features that you will be focusing on when choosing a pop-up tent are the affordability, the ease of setup, the quality of the material that makes it, the efficiency, and ventilation. Zaltana pop-up tent is a simple waterproof tent that can serve one person. If you need something that will be perfectly fitting for you alone, then Zaltana is the option. You will like the double-layer polyester design with an inner lining to warrant warmth throughout the night.
Zaltana is super strong despite being a lightweight design. Its fiberglass frame designs are other reasons that put it ahead of the rest. It also excels in comfort features with sufficient ventilation to keep you safe and warm all the time. It is also less expensive, and you won't break your bank to have it because you can still have it even under a stringent budget.
Coleman pop-up tent is the other amazing pop-up tent that campers can choose. The reviews about this camping tent, are impressive. It is best for a large family, and it can accommodate six people. Setup is easy and will be a choice for family and friends who are out camping. The Coleman tent is not a pop-up tent, but rather an instant tent because you will only need 30 seconds to erect a tent for 6!
You will like the fact that the tent uses quality materials to make it, and therefore, they do not compromise with the effectiveness of the tent. It has four big windows, a space, and an entrance door.  It uses high-quality taffeta and is super waterproof making it an excellent choice for campers.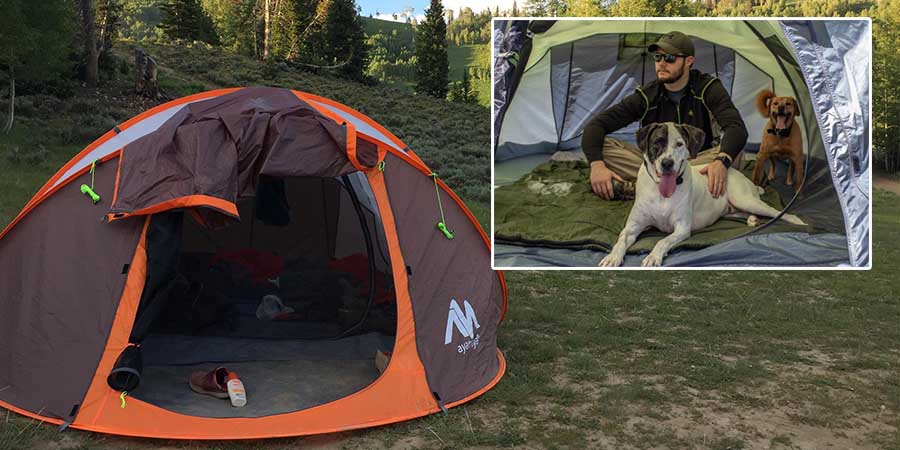 Ayamaya Pop-up tent
Ayamaya Pop-up tent ranks best among the available pop-up tents in the market. Its features are appealing and receive the best reviews at Amazon. Ayamaya makes their tent using a polyester material that is approved as the best for tents. The tent can accommodate 4 to 6 adults because of its roomy space with a vestibule for luggage and other accessories. The Ayamaya pop-up tent has storage pockets and a lantern hook to keep it neat and organized.
The unique double-layer will be helpful to the gap issues of condensation. Both inner and outer layer serves in stopping condensation. The gap between the inner and outer layers acts as a ground for vents. It is a perfect ventilation side for spring and summer. You will only need few seconds to set up the Ayamaya pop-up tent due to easy to assemble accessories.
Many customers love the fact that the tent has two doors, hooded vents, and four windows to warrant better ventilation. The front doors are large enough for easy entry and exit. The zipper design mesh windows are four in number to according maximum ventilation. You will also have better privacy because you can seal the windows with nylon. The tent is waterproof made with a PU-Coated oxford groundsheet. It's a durable tent that you will be happy to have.
Ayamaya products are always excellent, and you won't regret owning this best-selling pop-up tent. You can still get access to more tents part from Ayamaya that will still serve the purpose.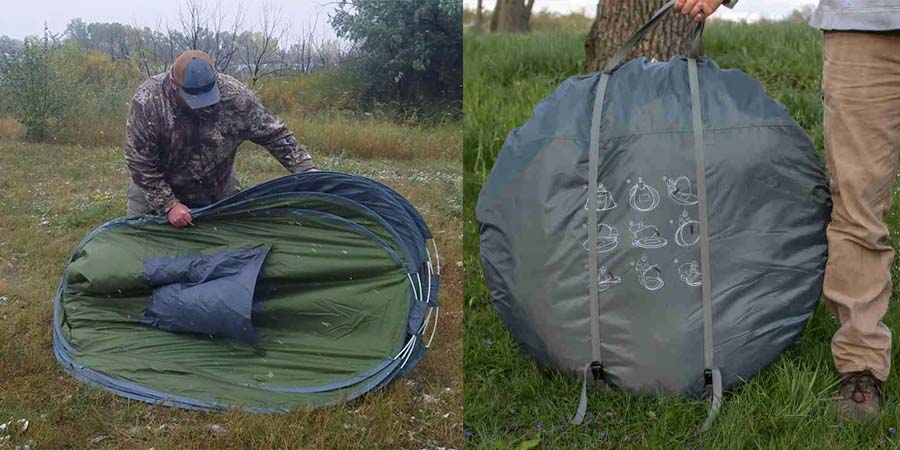 How to set up and pack down Ayamaya pop-up tent
The quick setup tent has pre-assembled poles that will allow setup in seconds. You have to open the bag and let it out. You won't need to fumble around with the tent poles. The instructions can be a challenge, but you have to do the right thing. Pop-up tents give the users an innovative way to erect a tent without any need for knowledge. It is ready for use as soon as it is out of the bag.
When folding after camping, you will start from the sides where you fold them together. Start by pulling one side of the tent to the center direction as you push it along the ground. Hold it down gently as you bring the other side until it forms that oval shape.
Sum up
Pop-up tents are the best for campers who often experience emergencies. It is a solution for the campers who will want to have instant tents. Consider the Ayamaya pop-up tent for convenience and the best camping experience.