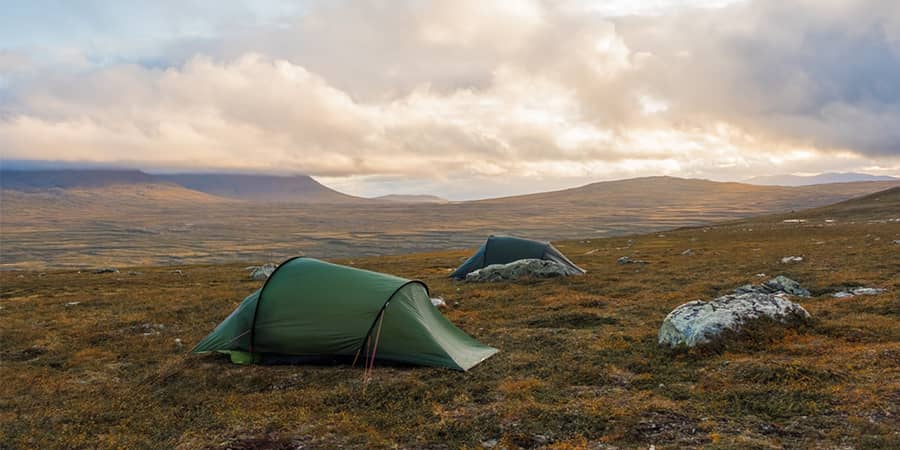 Imagine perfect camping, you have the best tent, you have taken the favourite foods, even the ice-box, your tent is already up, and you started relaxing. You have been planning for this day with your friends for a long time, and now it is happening. Everything is going perfectly as per your master plan. Everyone is praising you for crafting such picture-perfect camping. You are also pretty satisfied with it and happily ticking the points from your to-do list. And then you heard the sound of that mighty buzzkill. Yes, you just heard the roar of black cloud hovering above your campsite. And at that very moment, you realized you had forgotten guylines and stake.
If you are a beginner in this whole camping and hiking thing, then understand what guyline and stake are really important. A guyline is usually a cable or cord which secures a tent or tarp to the ground. In a nutshell, they provide structure and support the portions of the tent where the poles fail to.
Now the stake is a bit different thing. Stake holds the guyline firm. Stakes are also known as tent pegs, which comes with a hole on the top of it and goes deeper inside the ground the hold the tent erect.
You can think of avoiding guylines, but in that case, you should expect water flooding inside your tent if it is pouring outside. And if you are camping on a terrible day, then the worst thing can happen. Your tent can collapse before you blink your eyes. So it is always better to be a smart camper and take all the precautions beforehand to make your temporary shelter perfect.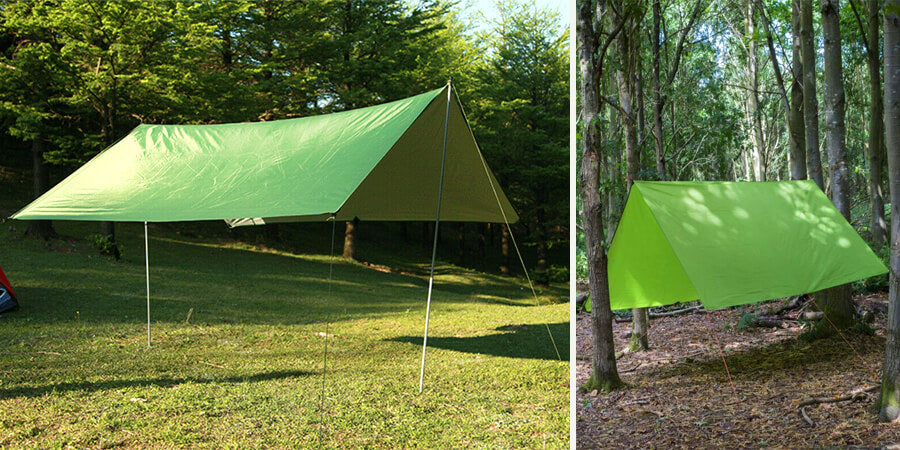 Why Should You Use Guylines and Stakes?
Now, apart from keeping waters away from your tent indoors, what precisely the guylines do. It serves a few primary purposes:
The Leakage Issue
Guylines fasten to hoops on a tent's rainfly, and the other end is attached to the stake. And the pegs are firmly staked at a balanced distance away from the shelter. They hold the rainfly away from the shelter to reduce the probable leakage.
There are a few kinds of rainfly which include a sort of vestibule. Yeah, it's great to have a temporary mini porch, but the problem is it can quickly turn into a nightmare in bad weather. Because of such designs, rain fly cannot be fully supported by the tent frame. In that case, your day can be saved by guylines and stakes.
Structural Stability
They keep the tent's structural stability intact. As a result, hefty winds or sudden snow loads cannot uproot or ruin your tent.  But to avert all the possibilities of snapping your tent, you need good quality guylines and stakes.
The Wet and Sagging Tent
During the wet weather, substantial condensation can amass underside of the tent rainfly. In that situation, your rainfly will start sagging in no time. If you are using good quality guylines and stakes, then attach the guylines to the hoops around the bottom of the tent rainfly. This will release the tension from edges, tent body, and corners. But nothing will work if you are choosing the wrong kind of tent fabric. It must be waterproof. If your tent rainfly starts sagging, then check it periodically and do the necessary things to keep it taut.
Reinforcement
If the day is really windy, then use guylines to increase the tent's necessary stability. To do that, all you need to do is attach the guyline loops halfway up the rainfly.
One thing you should remember: increasing the stability of a tent means also keeping the poles in place and reinforcing it. Guylines not only keep the rainfly stable but also strengthen the poles. Most of the good tents include Velcro directly underneath the guyline loops, which locked to the poles. These create the fundamental linking between the guylines and the pole structure. For extreme strength, consider setting up each guyline.
Ventilation and Air Flow
Let's say you are camping in a tent which has a double wall. In that situation, guylines will help keep the two walls stay disjointed. More precisely, they will keep the rain fly from resting straight on top of the tent. This space and separation are vital for allowing air rotation and avoiding compression.
Tensioning
You may need to keep adjusting the guylines in order to keep the tautness intact. There are several ways to do that. The simplest method is to practice a trucker's hitch. It does not need any extra tools or hardware. Anyone can learn how to do it, but it's a bit challenging to re-tension. If you are willing to avoid that irritation, then the good news is, there are many tensioners are available in the market.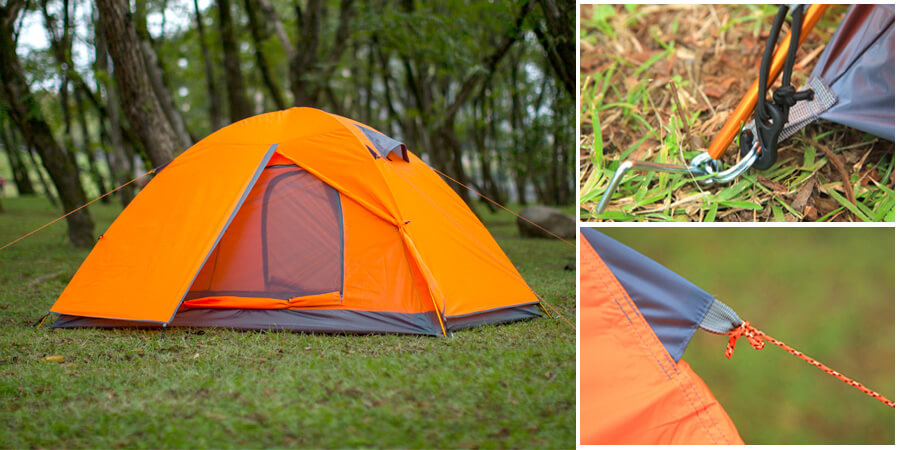 The Ideal Guyline Length
There is no hard and should rule regarding this. Basically, the length of guylines depends on the specific tent you are using. But you should always avoid being stingy when it comes to selecting the guylines length. An extra foot can provide added flexibility.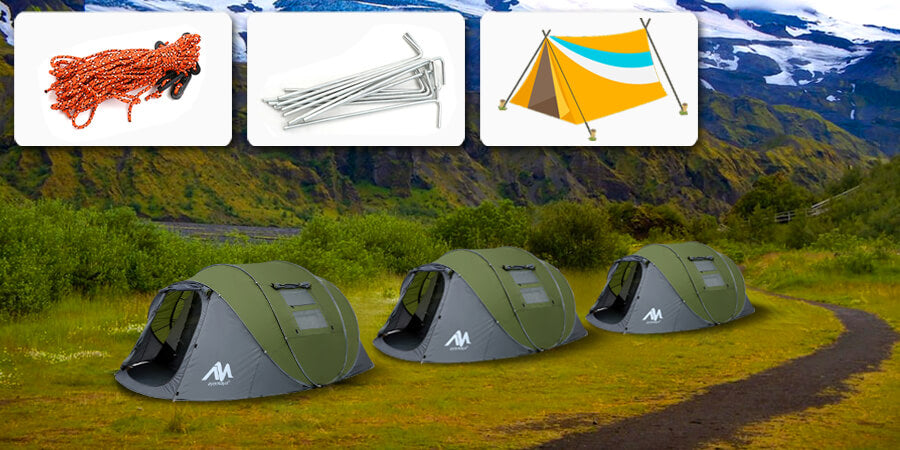 Flaws to Expect in General Stakes, Tensioning System and Guylines
Sometimes you can receive inadequate cordage. This confines stake-out sites, camping in the rocky area can be problematic with these. Natural poles or supports like exposed roots, trees, large or extended rocks, and logs cannot be used either. If you are using deadman anchor in winter, then also you may have to struggle with these insufficient cordages.
If your stakes are not of good quality and made of the right material, then it can bend easily, especially if your rainfly is getting wet, sagging, or accumulating condensation. Choosing the right stakes is essential. No matter how excellent or lengthy your guylines are if your stakes fragile, then nothing can help you.
0 comments