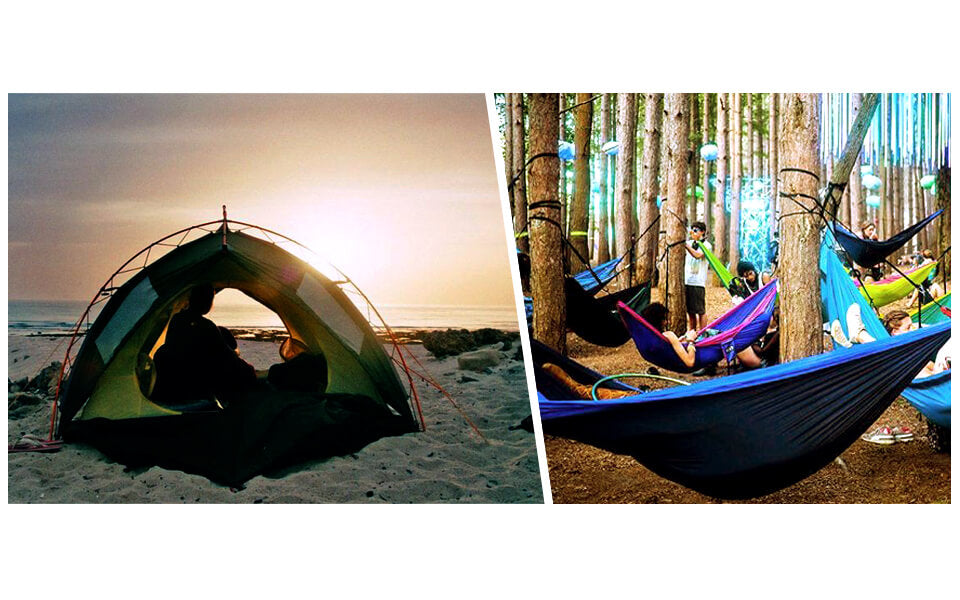 How do you usually spend your holidays? Camping is definitely a good choice for most people. However, do you know how to choose between tent camping and hammock camping? Let's take a quick look at the advantages and disadvantages between them!
Camping partners
If you're a family, I may suggest you to choose the tent camping. Since the children like to go in and out, family tent will be more convenient and safe for them. You can also choose one with the Vestibule for your pets. If you go with several friends, family tent is still the better choice. Because it can provide you a place to play any kind of games, such as: Werewolves of Miller's Hollow. If you're couples, you need to try the hammock camping, you can't image how romantic it will be.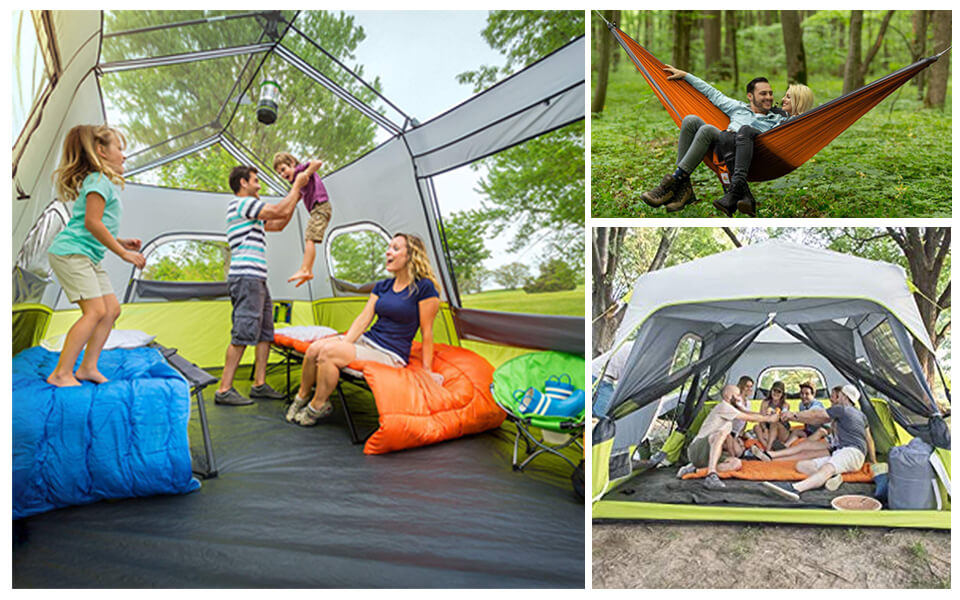 Speed of Setup
Most people think that camping hammocks are quicker to set up. However, I need to say: it depends on what kind of camping tents you're choosing. Setting up a tent usually needs much more time than a hammock. However, if you choose the instant pop up tent, it can be set up within 1 minute. If you count the time of choosing the place, there will be another answer. You need to look for a flat ground with few rocks, roots and other things which can be easily cleaned. However, for the camping hammock, what you need are just trees.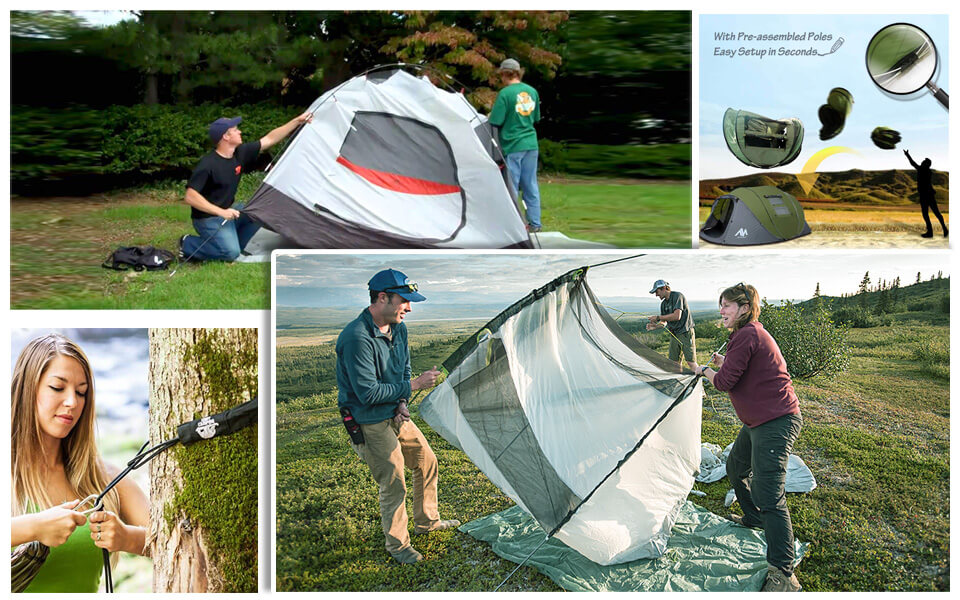 Weight and Size
Camping Hammock is obviously more lightweight and space saving. Camping hammocks made of parachute can still weigh less than 3lbs including the removable rain fly and mosquito netting. And the great thing about camping hammocks is that you can break them into individual components and only take the parts you need. It can be easily packed down to the size of a softball. Another wonderful thing is that, you can also forget the pillow and sleeping pad you would have brought in order to sleep comfortably in the camping tent.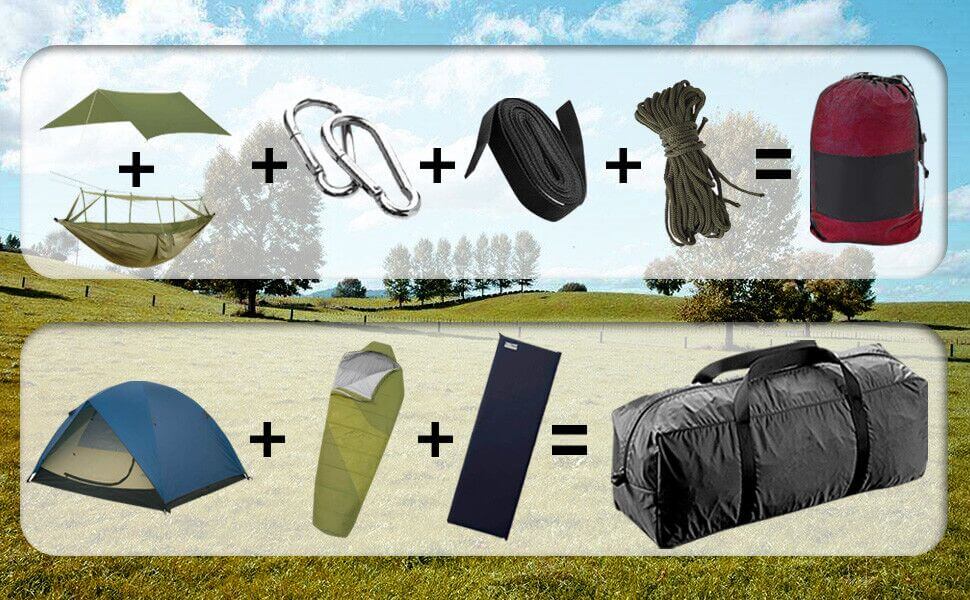 Camping Place
For casual camping trips to the park, camping hammocks are just so much better than camping tents. You'll never have trouble finding somewhere to sleep in even the most cramped of camping sites. And heavily wooded areas lend themselves well to hammock camping. While tent dwellers are struggling with the aforementioned roots and rocks, you'll be chilling a few feet above the ground in style and comfort. For beach camping, you may need to be miles away from the shore, trying to find a half-decent tree by the roadside.  So tents are way better.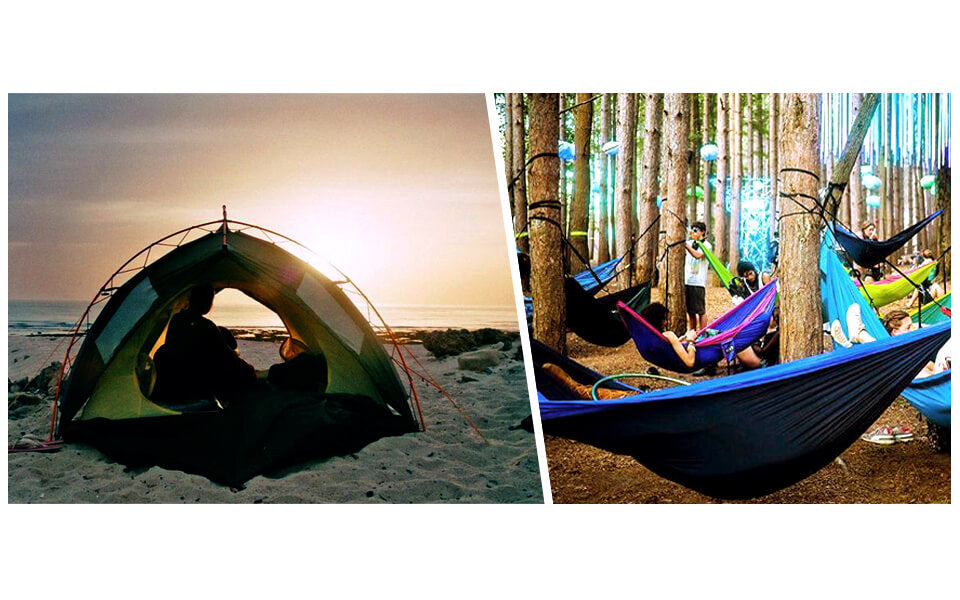 Nature and Comfort
Camping hammock offers you a chance to say goodbye to sleeping on rocks, roots, mud, bugs, and sloping, uneven ground. Hammock camping allows you to rise above it all. And if your goal with camping is to get as much nature and fresh air as you can, sleeping in a hammock is the way to go. You'll rock to gentle breezes, fall asleep while watching the stars, and open your eyes to the sky. If the forecast calls for rain, or you'd like to sleep past sunrise, just put a rain tarp over your hammock.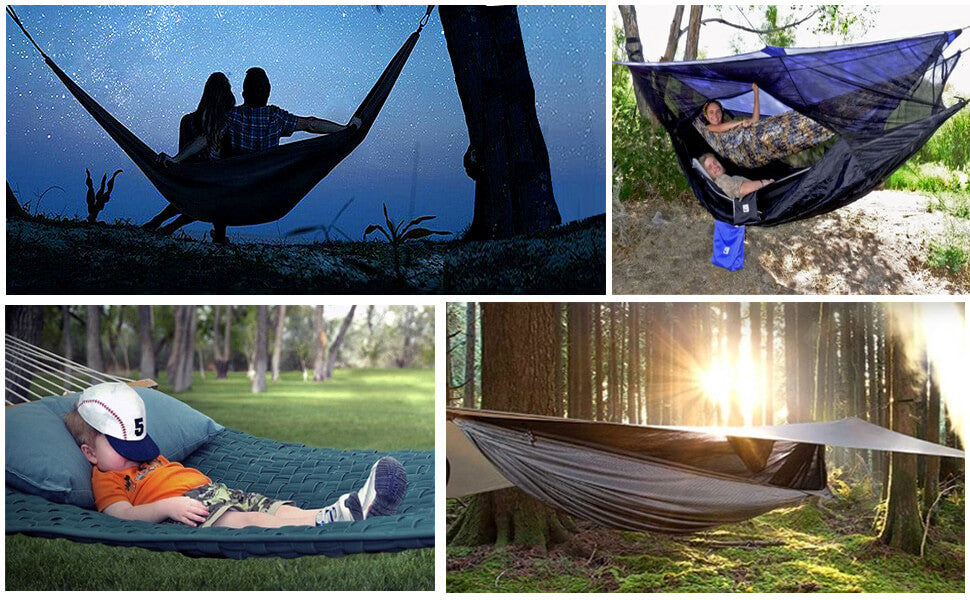 Camping Season
Camping hammocks usually can be used for 3 seasons. You can choose different hammocks and accessories for different seasons. In warm temps, you can use the rain fly over the hammock to reflect heat and proof the rain as well. If the temperature starts to go down, you can choose the hammock underquilt. But in colder weather, tent may be the better choice, since tent camping offers an advantage in that the ground acts as insulation, returning the heat you give off. With the additional sleeping bag and pad, you will sleep warmer.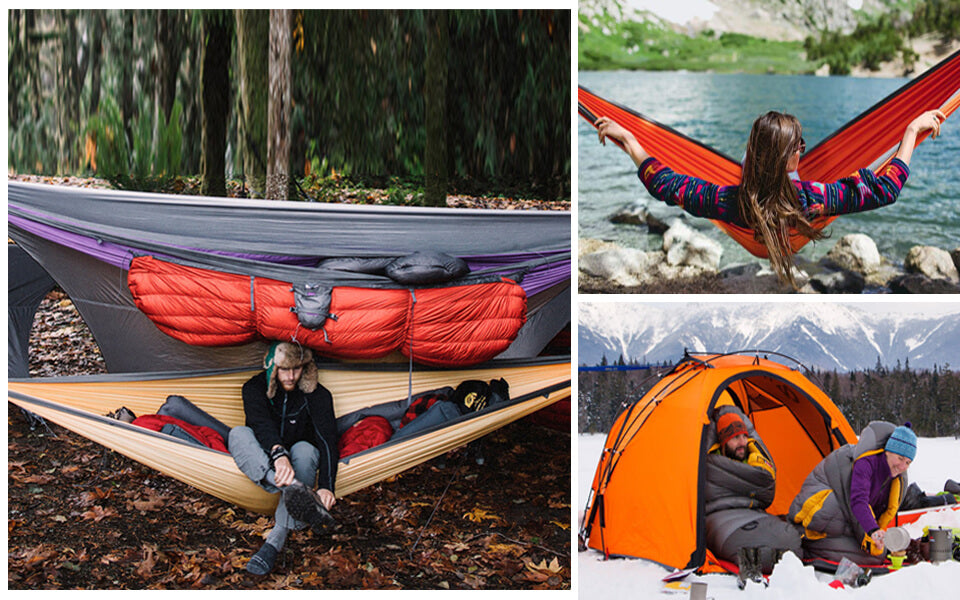 Product Recommendation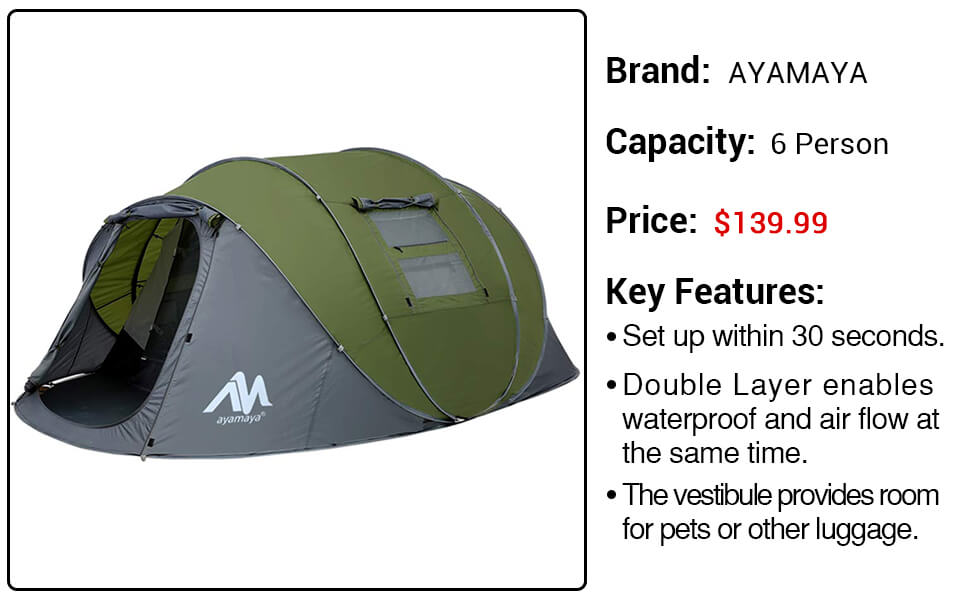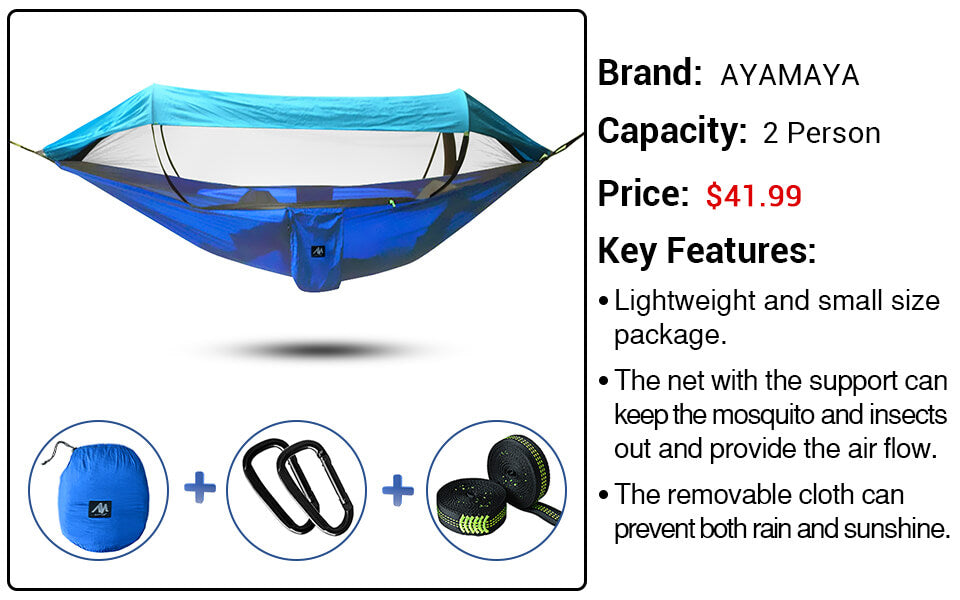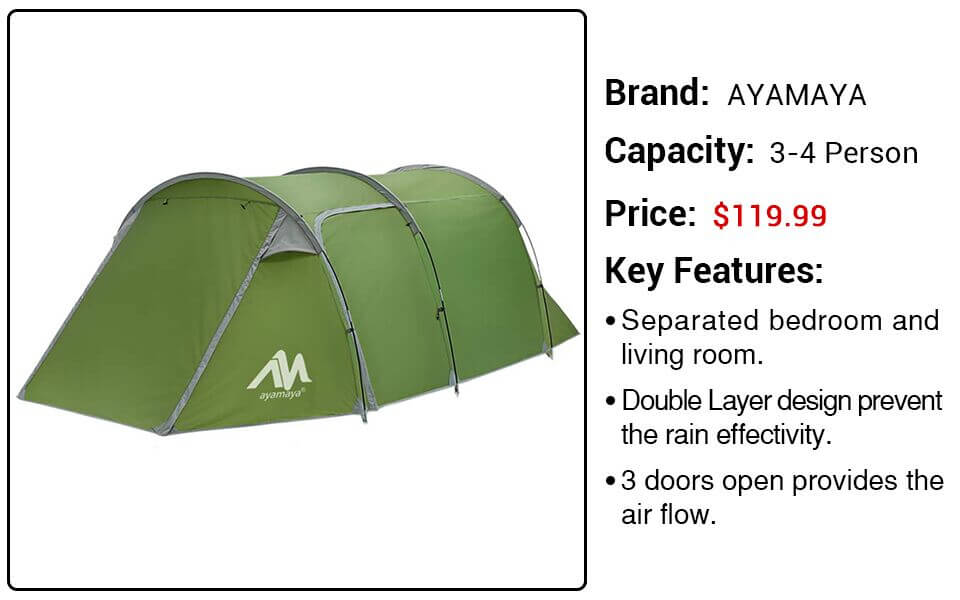 0 comments